Kythera Canyons
KIPA seeks to achieve the development of responsible and sustainable tourism on Kythera, beyond the short period of July and August, in a way that does not alter the character of the island. Apart from the extension of the tourist season, the aim is to highlight the cultural and natural heritage of Kythera and to create employment opportunities for the youth of the island.
In 2019, the Foundation kickstarted its new program 'Kythera Canyons', thereby utilising the natural potential of the island and embracing the efforts of people who share a common vision.
An integrated network of via ferratas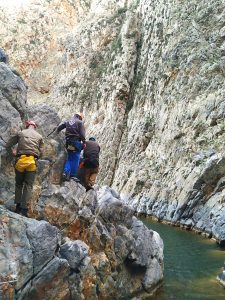 The Foundation collaborated with the local tour operator 'Outdoor Activities Greece' in order to develop a management plan and finance the economic and technical study of the first three via ferratas.
The first "iron trail" was completed in February 2020 in Kakia Lagada, from Paliochora to Limni beach. Thus, Kythera became the first small island in Greece with a via ferrata. The Via Ferrata route of Kakia Lagada has been harmoniously integrated into the network of Kythera Trails, connecting the circular route M31 (Potamos – Paliochora – Potamos) with the route M36 (Diakofti – Agia Pelagia which is under construction).
Via ferrata is the perfect mix of hiking, canyoning and climbing. With the right infrastructure, and in a safe environment, stunning landscapes in canyons and steep slopes become accessible to a wide range of people. No technical skills are needed, just moderate fitness, simple but specialised equipment (only a helmet and a harness), and definitely a lot of enthusiasm for action in nature.
The objective is to create an integrated network of standalone, connecting and circular via ferratas, of various difficulty levels, throughout the island. These routes will operate autonomously and at the same time complement each other.
Book publication about canyoning in Kythera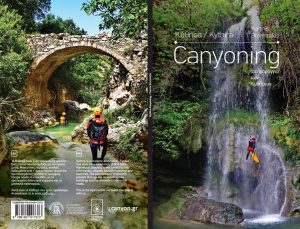 KIPA supported the publication of canyoning instructor Yiannis Bromirakis's book entitled "Kythira Canyoning". This book is a Technical Guide for canyoning in Kythera with descriptions, technical data, and breathtaking photos for 7 routes: Mylopotamos I, Mylopotamos II, Kakkavos, Peristerionas, Kakia Lagada, Rozones, and Vathi Lagadi.
According to the author "Kythera is a magical place" and the 7 canyoning routes contained in the book are "little gems" that will put Kythera on the map of the canyoning audience. Kythera, even though it is a small island, can become a canyoning destination. This book serves as a manual with tips for tour operators offering this type of travel or groups engaged in this type of outdoor activity. The book is available in bookstores in Kythera.
KIPA is anticipating the development of thematic tourism in the canyons of Kythera. Cooperating with local government, the Mediterranean Institute for Nature & Anthropos (MedINA), local businesses and organizations, and in conjunction with the ever-growing network of trails, the foundation promotes the island as a destination for experiencing adventure tourism.