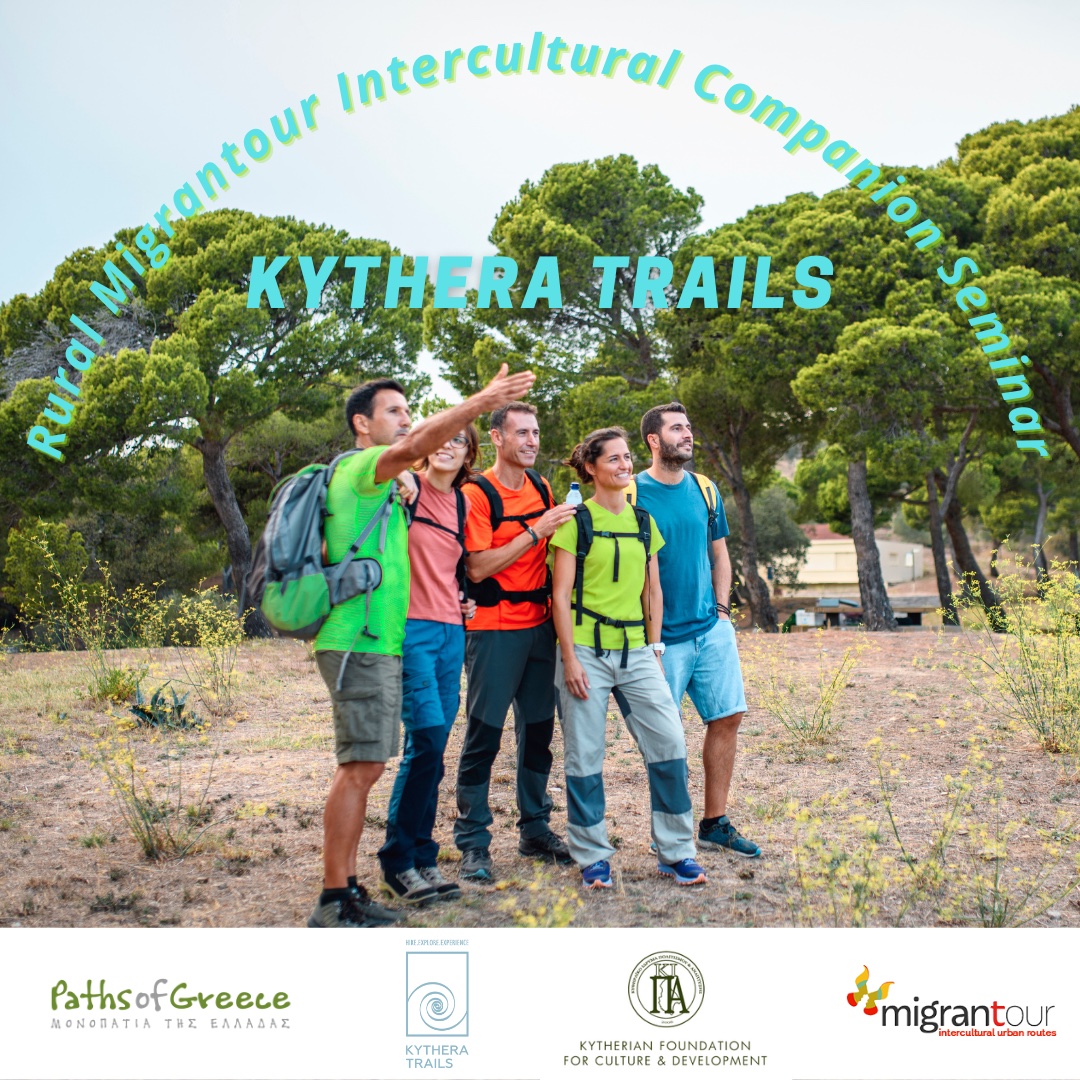 Do you live on Kythera and want to create your own hiking tour on the island?
Kythera participates in the European Erasmus+ project "Rural Migrantour" which offers a 7-days training for developing hiking tours. The aim of the project is to train people who have migrated to Kythera in presenting not only the beauty of the island, but also their own personal story and their connection to the island.
Paths of Greece, the Kytherian Foundation for Culture and Development (KIPA) and Kythera Trails invite all those interested in participating in the training to apply through the following form: https://forms.gle/EFNb3pcLudtjjofm8
Conditions for application:
1) To have emigrated to Kythera or be an up to third generation immigrant
2) To speak good English
3) To have an interest in developing a professional activity in hiking tourism and love the culture and nature of Kythera
Application deadline: Friday June 3, 2022.
---
Paths of Greece: The social cooperative enterprise 'Paths of Greece' was founded in 2010 with a vision to make Greece one of the top 10 hiking destinations in the world. With love for its culture, its nature and its people, our work restores and promotes the old trails in different regions, in a way that meets the needs of modern hikers. For more information visit us: Web / Facebook / Instagram
Kytherian Foundation for Culture and Development (KIPA): Since 2006, the Kytherian Foundation has championed the conservation of Kythera Island's cultural and natural heritage, while contributing to sustainable development and the quality of life of the local community through educational activities, events, scientific conferences and the restoration of traditional trails among others. For more information visit: Web / Facebook / Instagram
Kythera Trails: Kythera Trails is the official trails network of Kythera Island, Greece with 11 trails of 100 km in total. We develop sustainable tourism, while enhancing our island's natural and cultural heritage as well as helping the local community thrive. Visit us on: Web / App / Facebook / Instagram / YouTube / Tripadvisor
The programme is supported and implemented by the Kytherian Foundation for Culture and Development (KIPA) in collaboration with the Municipality of Kythera and Antikythera, Kythera's Domestic Estate Management Committee (Enchorios) and the Mediterranean Institute for Nature and Anthropos (MedINA).