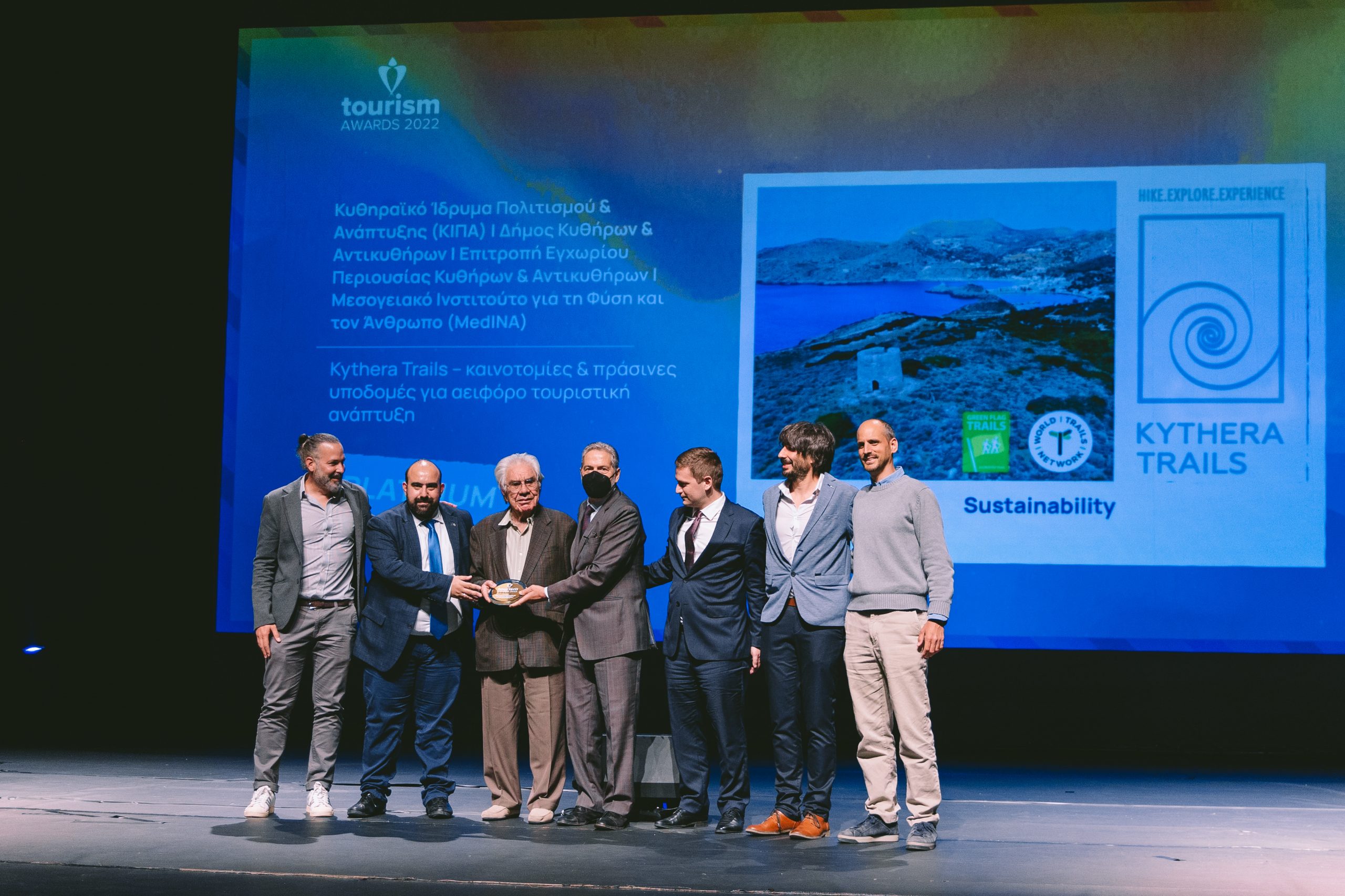 Kythera Trails', the programme of tourism development of Kythera, won the top platinum distinction at the Greek tourism awards institution 'Tourism Awards 2022', in the category of 'Sustainability'.
The awards ceremony took place on Monday 9th May, at the Hellenic Foundation, in the presence of Deputy Minister of Tourism Sofia Zacharaki and Deputy Minister of Research and Technology Christos Dimas. This was the ninth annual event and had the most nominations of any previous year. The awards went to the most pioneering and innovative tourism initiatives.
The nomination entitled 'Kythera Trails – innovations & green infrastructures for sustainable tourism development' won not only the Gold Award in the sub-category 'Sustainable Tourism Development', but also the Platinum Award in the whole Sustainability section. Kythera Trails is now one of the 13 top initiatives of Greek tourism. In addition, the programme was honored with the Bronze Award in the category 'sports & adventure destination'.
The nomination applications were submitted by the Kytherian Foundation for Culture & Development (ΚΙΠΑ) and these awards are an important distinction for all other partners involved: the Municipality of Kythera, the Domestic Property Committee of Kythera & Antikythera, and the Mediterranean Institute for Nature and Anthropos (MedINA). The evaluation was carried out through an online system by a team of independent judges.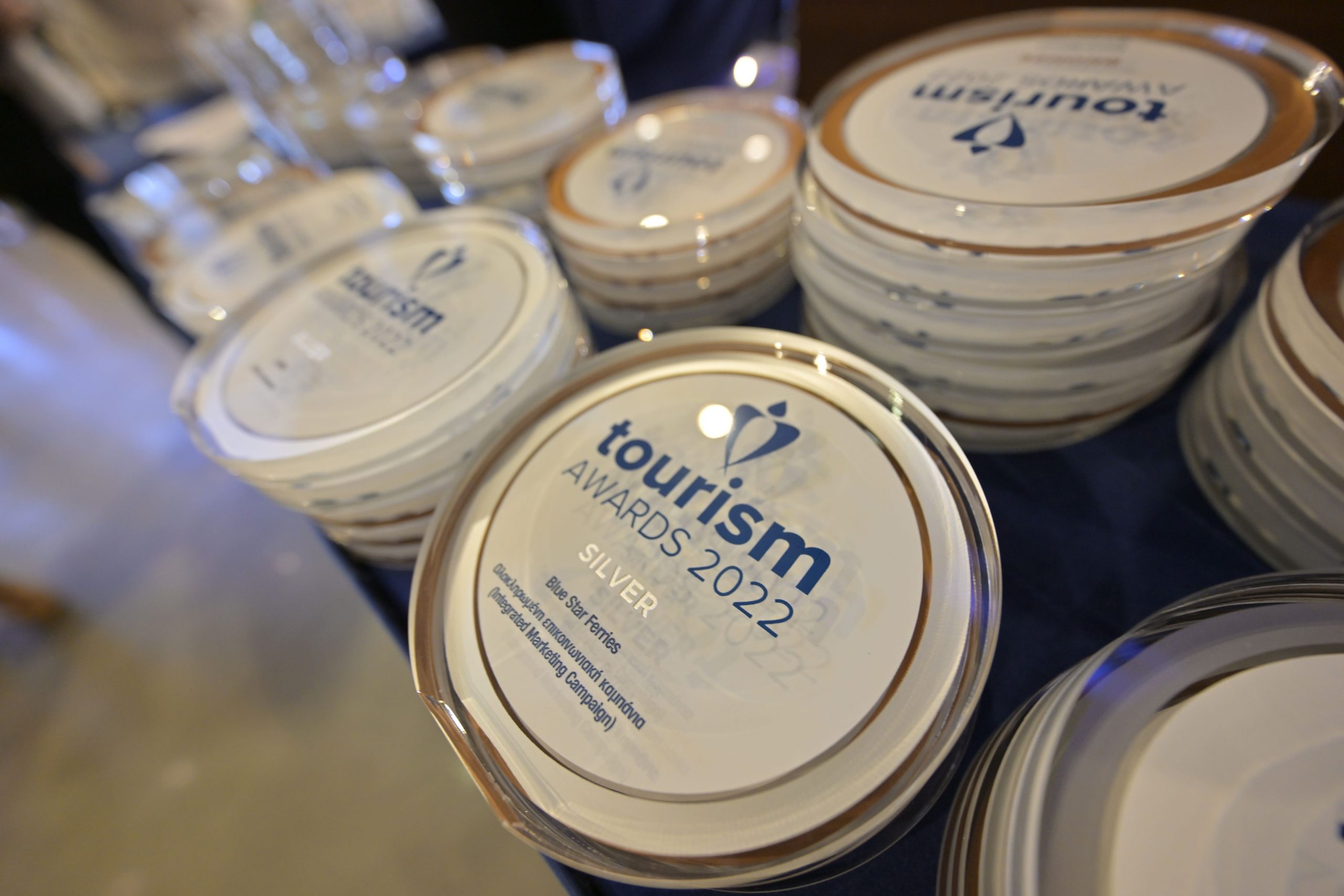 The awards were received by all partners who stood as a team on stage, with special reference made to each organisation. In his greetings, President of KIPA Foundation (ΚΙΠΑ), George P. Kasimatis, referred to the team work that has been done in recent years in Kythera and dedicated the award to all Kytherians. The Mayor of Kythera, Stratos Charchalakis, referred to Kythera as a symbol of a 'real utopia', inviting all attendees to visit the island. Professor George Kasimatis, Founder and Honorary President of KIPA Foundation (ΚΙΠΑ) declared with enthusiasm his vision is becoming a reality for the benefit of Kytherian society.
The platinum candidacy was based on all the work of recent years, with milestones including the development of a complete network of trails, the INCREAte approach of MedINA, the certification of Green Flag Trails, the scientific recording and ethnographic research for the thematic identity of the routes, as well as the reconstruction of 26 microdams in the Karavas ravine to enhance the traditional and sustainable management of water resources.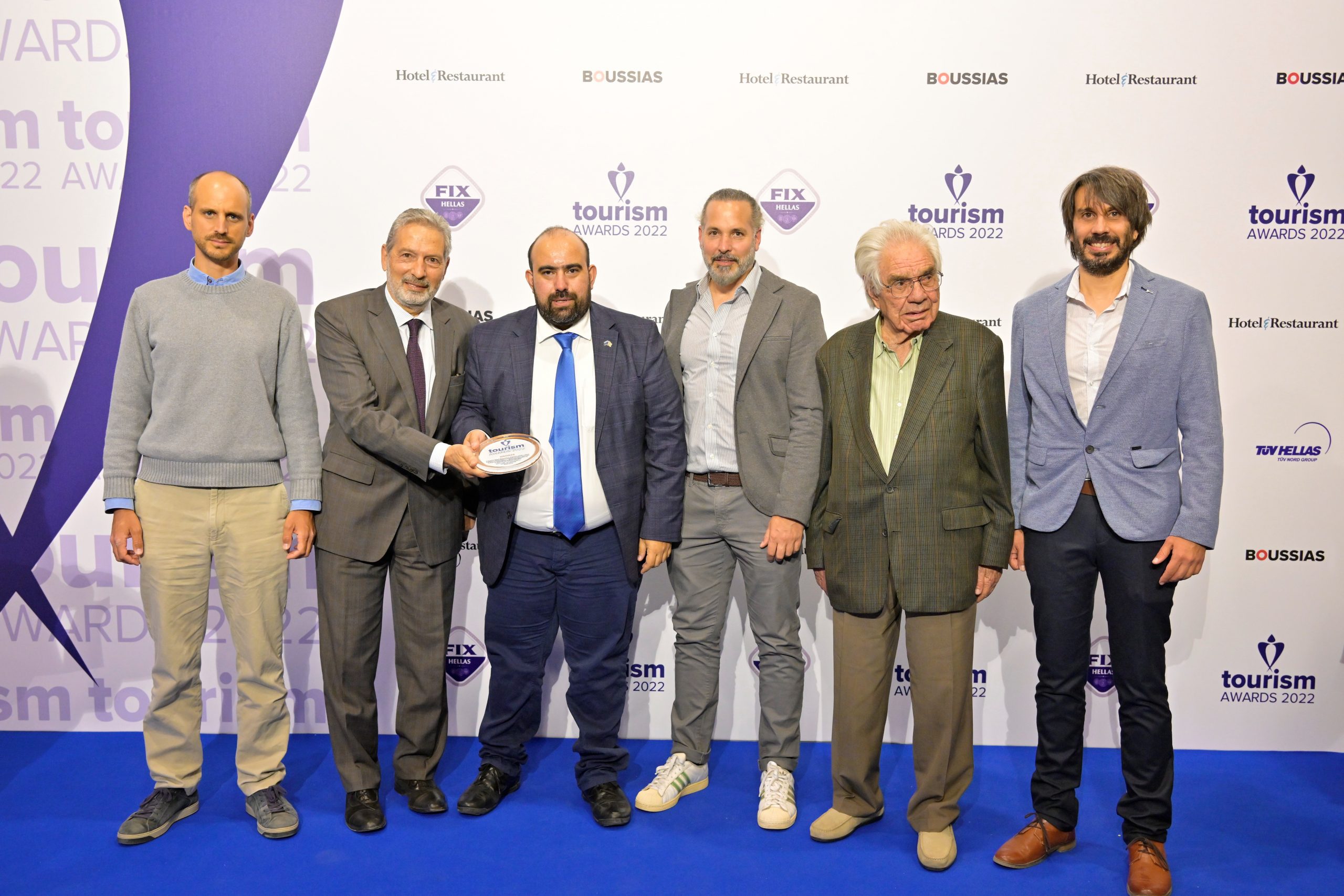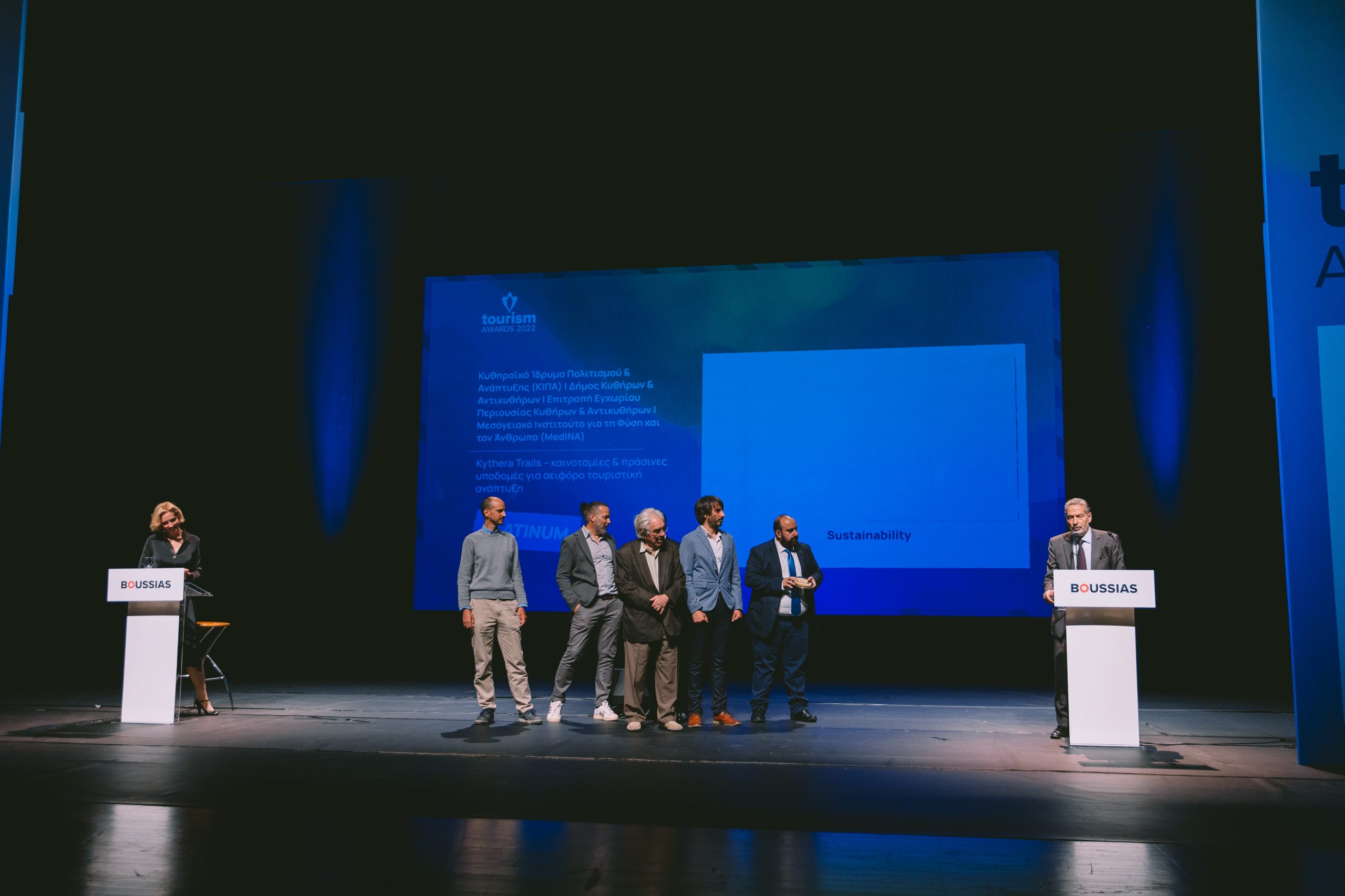 Alexandros Angelopoulos, Chairman of the jury of the awards, stated about the event: "The Tourism Awards have a unique value for rewarding professionals in the wider hospitality industry from professional peers in the field. Without prejudice and with an open mind, we recognise the work and the efforts of our colleagues and we place the economy of hospitality where it really belongs – at the top of the economy of local communities ".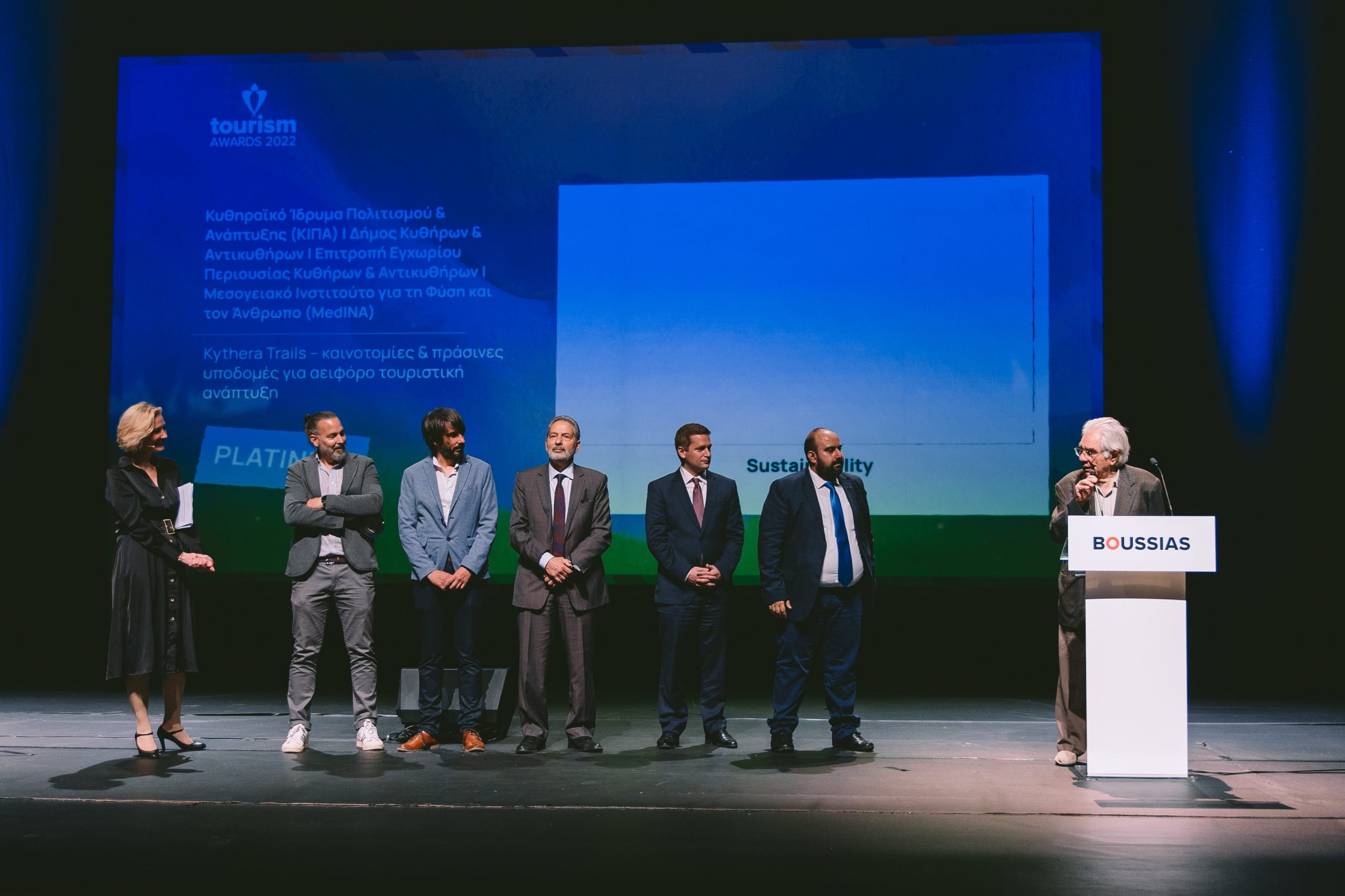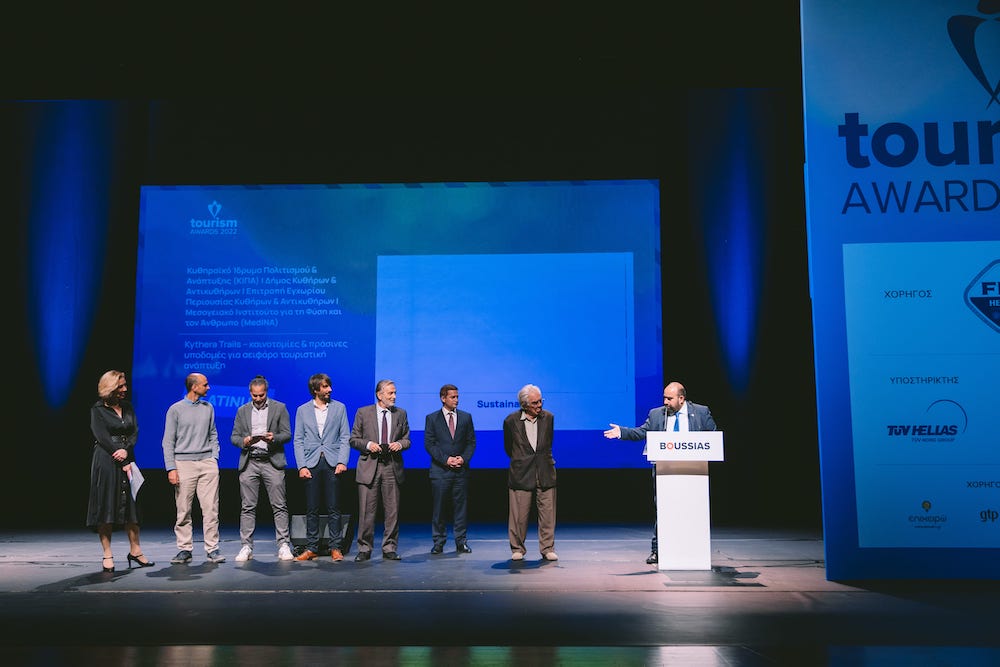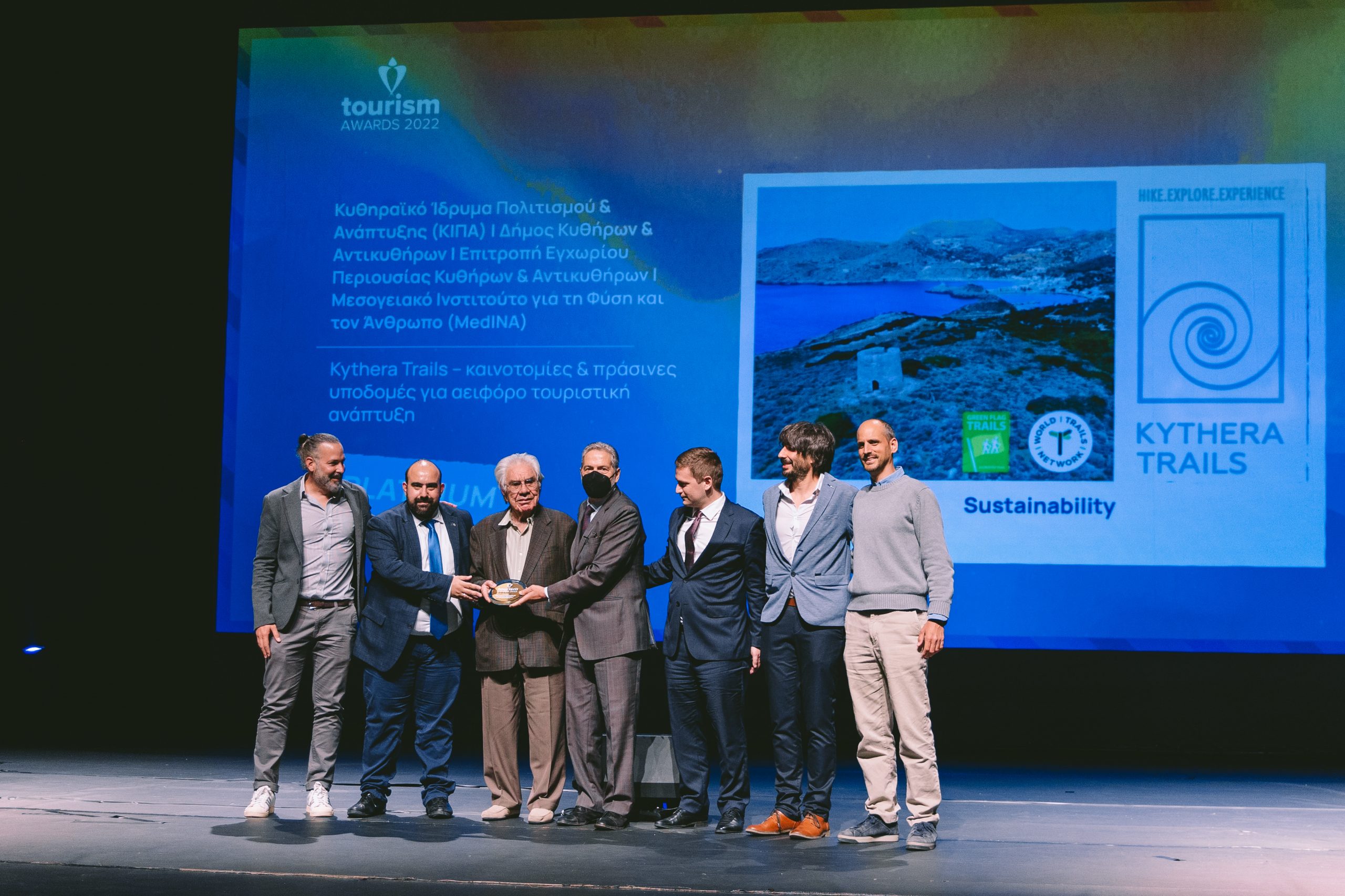 ---
More Info & Links
Kythera Trails: Kythera Trails is the official network of trails of Kythera, with 11 routes with a total length of 100 km. Our vision is to preserve and enrich the natural and cultural heritage of the island, contributing to the prosperity of the local community. Visit us: Web / App / Facebook / Instagram / YouTube / Tripadvisor
The programme is supported and implemented by the Kytherian Foundation for Culture and Development (ΚΙΠΑ) in collaboration with the Municipality of Kythera & Antikythera, the Domestic Property Committee of Kythera & Antikythera, and the Mediterranean Institute for Nature and Anthropos (MedINA)