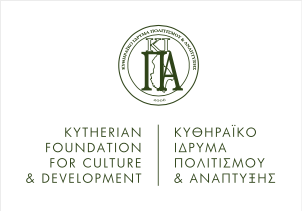 K.I.P.A. is pleased to announce that it has received from the Home Property Committee of Kythera-Antikythira the first instalment of € 10,000 of its participation in the program of completion of the long path between Avlemonas-Mylopotamos in the framework of the cooperation between the two bodies. It is reminded that all the paths of our Program, financed by the patriotism of Kytherians and the social contribution of the Friends of Kythera, belong to the ownership of the Domestic Estate Management Committee of Kythera and to the exclusive public management of the legal entity under public law of that Committee. K.I.P.A. has contracted the restoration, the opening, the mapping, the signalling and the whole organization in networks. In addition, KIPA has put them in public use based on the international rules of hiking for the common benefit of Kythera and Antikythera.
The 19 km long path, which is being financed by the Committee, is one of the largest and most important in the Kytherian ancient (from the time of the Phoenicians) history. During the Venetian rule and later it was the main road that connected the main port of Kythera with the second important fortress of the island, passing through Mitata, the Fryktoria in Agia Varvara, near Kypriotianika in the centre of Kythera, and through the village of Maggounades (today Perlegianika, Dourianika) ended from the West in Mylopotamos.
Next year the second instalment will be paid by the Committee for the same purpose.  K.I.P.A. warmly thanks the Domestic Committee and its President Mrs. E. Venardos for the excellent cooperation on the important cultural work of the Foundation. With this move, the Committee sets the message of how beneficial for the island is the cooperation between the bodies that manage its fortunes.
K.I.P.A. relies on the contributions of all friends (which it does not fail to highlight) for the promotion and continuous maintenance of this important project for the sustainable development of our islands, which belongs to the Domestic Estate Management Committee of Kythera .