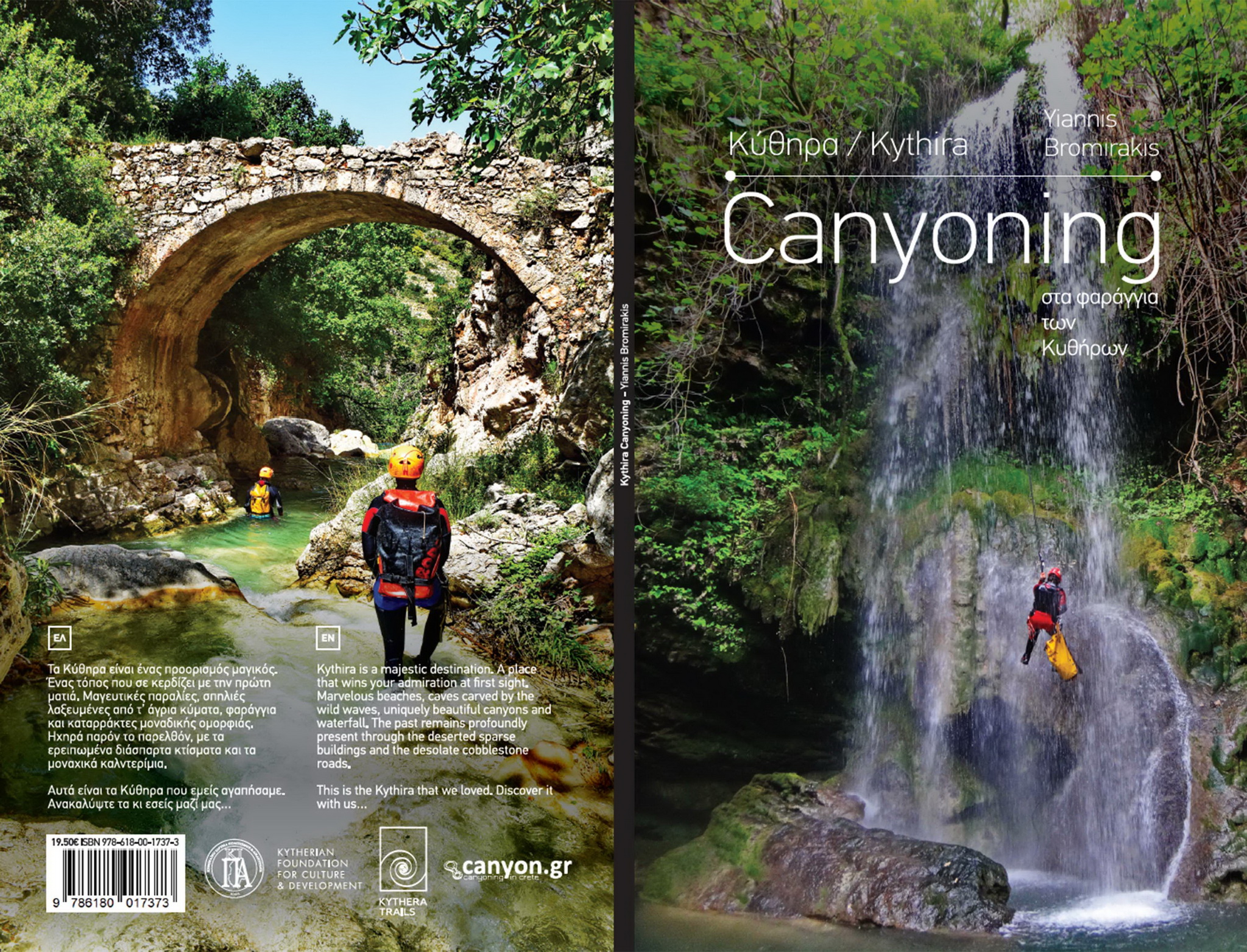 A special book was published on crossing Kythera Canyons, which is also a 'tool' for the development of canyoning in Kythera. The author of the book is Giannis Bromirakis, educator and founder of Pancretan Gorge Crossing & Exploration Group (Π.Ο.Ε.Φ. ) with deep knowledge of the subject and similar publications for the gorges of Crete.
The Kytherian Foundation for Culture and Development supported the publication of the book under the new Canyons Programme. This book is a Technical Guide for canyoning in Kythera with descriptions, maps, technical data and amazing photos for 7 routes: Mylopotamos I, Mylopotamos II, Kakkavos, Peristerionas, Kakia Lagada, Rozoni and Vathi.
According to the author, who has descended various gorges 1500 times and has been on canyoning trips to over 20 countries, Kythera, although a small island, can become a canyoning destination. "Kythera is a magical place" and the 7 gorge descents contained in the book are "little gems" that will make Kythera known to the canyoning enthusiasts and to the professionals who organise groups and trips of this kind."
Although this book addresses mostly sports fans, who are trained in downhill techniques and have special equipment, it also offers enchanting images from the unknown wild landscapes of Kythera to other readers.
Kythera is a mildly developed island, where according to Mr. Bromirakis "nature is everywhere and buildings are harmoniously integrated into the environment". This factor is a comparative advantage that can be used to attract quality tourism, which, unlike mass tourism, values the place and its heritage and further supports the local economy.
KIPA works for a sustainable tourism development in Kythera, beyond the narrow restraints of July and August, in a manner that does not alter the character of the island. It aims to bring to light the cultural and natural wealth of Kythera but also create employment opportunities for young people on the island. In collaboration with the local government, the Mediterranean Institute for Nature & Anthropos (MedINA), local businesses and organisations and in conjunction with the constantly evolving network of Kythera Trails and the first climbing trail Via Ferrata, the Foundation promotes the island as an experiential tourism destination.
The book is available in Kythera from KIPA Foundation and you will find it in the bookstores of the island.