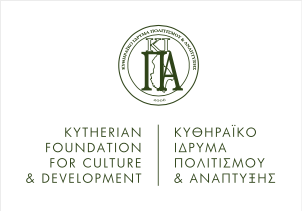 George Drizos was the first child of a large family of refugees. He fled from place to place, after the catastrophe of Asia Minor to Chios, finally seeking refuge in Piraeus and living an impoverished life in the refugee apartment buildings of Kaisariani. His childhood and adolescence were shaped by the deadly famine, surrounded by corpses during the German occupation of Athens, when daily struggle was a matter of life and death. His soul was marked by the sound of sirens and bombs of war, with the daily bursts of rifles and the screams of men being executed at the nearby Shooting Range of Kaisariani, during the times of the unprecedented war crimes of the Nazi Germans, and their collaborators and battalion guards. George Drizos lifted all this heavy baggage, together with the wealth and dreams of his youth, and set out on a journey in search of beauty and creativity that was completed as he said, by the "journey to Kythera".
The passing of George Drizos is a multiple loss for our Island. His contribution to Kythera was fourfold: firstly he was one of the most important Greek painters of the 20th century and one of the leading painters from the times of World War II until his death. His modesty, his low-key character and his ethos prevented him from being in the spotlight of publicity, keeping him totally dedicated to his artistic creation and love for humanity. His presence near us for all these decades will remain a timeless and precious gift for our Island. Secondly, the distinguished painter chose Kythera as a place to have his second residence and artistic inspiration, where he resided for six decades of his life, until his death. Before coming to Kythera, young George Drizos, together with his beloved wife, the unforgettable Phryni who was also an excellent folk painter, both gifted with an artistic sensibility, had traveled to all the Greek islands and other remarkable places of Greece as well as many European cities of culture.
Carrying with them a rich tapestry of life, it was a wild night of the early 1960s when they disembarked in Agia Pelagia using small boats, and drove along the (then) dark route of the Island to reach Chora.
Once there, at midnight, they looked for a room to sleep, thinking of asking the next day when the next boat to leave was. The next morning they woke up and strolled down to the Belvedere, where they saw,
illuminated by the unique light of Kythera, the beauty that stretched before them: the Castle, Mesa Vourgos, the slopes and the top of Agios Akindynos and the incomparable Kapsali. They gazed further at the blue sea toward Chytra and Antikythera and, where the horizon ends, the White Mountains of Crete, and both said in one voice: "Here we will stay!" Indeed they stayed until their death, making our Island a place of residence, inspiration and artistic creation, for many months every year. The third fact that marks the great contribution of George Drizos to our Island was that a large part of his artwork – as well as his wife's artwork – is inspired by our place and aesthetically expresses the nature, history and life of Kythera.
The fourth aspect of our Painter's contribution was his own personality with emphasis to his humanity: he lovingly embraced Kythera and the Kythereans. This love came straight from his heart. All of us who were lucky enough to socialise and hang out with him experienced it fully. He expressed it with his sincere interest in every cultural and intellectual event and with his will to always support these activities. He always showed particular interest and support to KIPA for its cultural, artistic and intellectual activities and for its charitable purposes, for the quality development of Kythera and the protection of the historical and man-made environment of our Island from the destructive impact of tourism and its exploitation for profit. His vision was for the youth to receive a quality education.
A good example of his contribution to the youth was the annual donation of one thousand euros to KIPA for the award of the first male or female graduate student of the High School of Kythera that emerged every year and aimed for higher studies.
The loss of George Drizos was a real loss for Kythera. I bid farewell to him with great sadness, for being an unforgettable friend, a heartfelt compatriot, a creator of high art and a great man. The island he so much loved will always remember him – we have nothing less to offer him than that.
Kythera, May 2021
George I. Kasimatis
Honorary President & Founder of KIPA