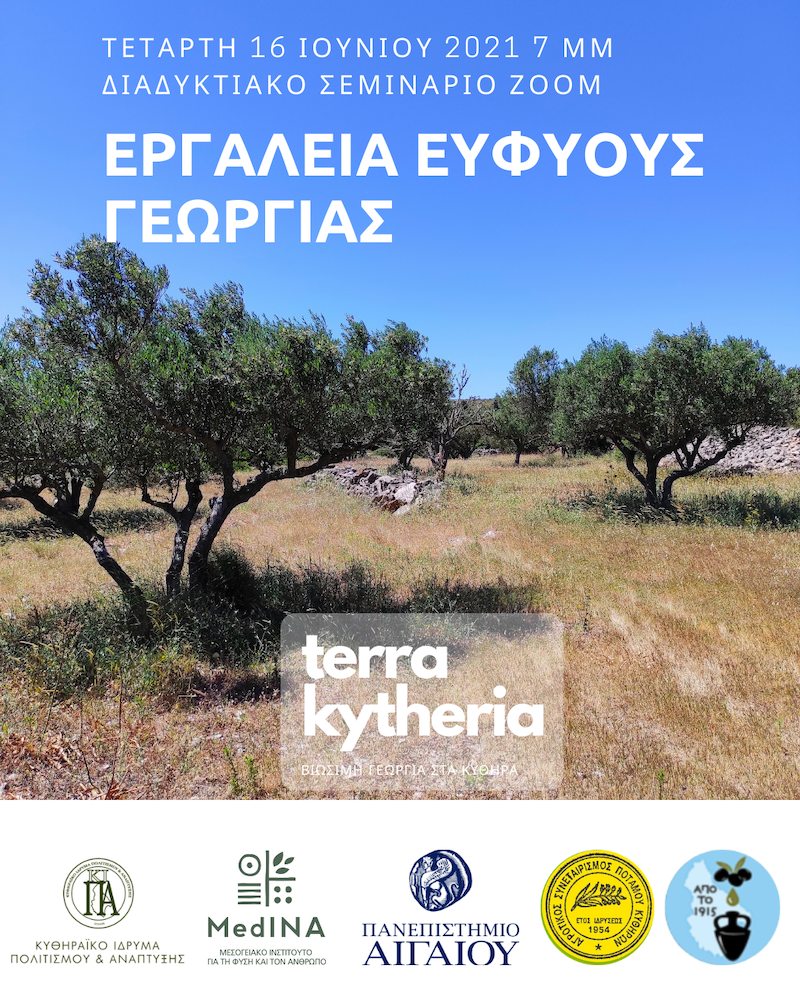 The primary goal of the Terra Kytheria programme is to empower the olive oil producers of Kythera in multiple ways.
In this context, the University of the Aegean, developed two 'tools', with which producers will be able to control, adapt and manage their crop quickly and easily. At the same time, these tools, consisting of an application (app) for smart phones and an internet geobase, will facilitate and simplify a great deal the certification process.
We are pleased to invite you on Wednesday, June 16, at 19.00 to the presentation of these tools by the team of the University of the Aegean, led by Professor Thanasis Kizos. During the presentation, the use of the tools will be explained, and the tools will then be made available at no cost to all interested producers.
It is very important for all producers who participate in the Programme to join the online conference.
Date: Wednesday, June 16 at 7 p.m.
Duration: 7.00 to 8.30 pm
Location: The meeting will be online, via the Zoom platform.
Join the Online Zoom Platform
Topic: Terra Kytheria Meeting 02
Time: Jun 16, 2021 07:00 PM Athens
Join Zoom Meeting
To connect click the link above
Meeting ID: 950 5950 6522
Passcode: 125541
---
MORE INFORMATION & LINKS
Terra Kytheria – Sustainable Agriculture in Kythera:
The Terra Kytheria programme aims to empower olive oil growers and promote Kytherean olive oil. It is based on a system of cultivation and certification, which will adapt to local methods and will sustain the traditional rural landscapes of the island and its biodiversity. It is an extension of the successful Terra Lemnia programme in Lemnos.
More information: KIPA website, Terra Lemnia 
The program is implemented by the Kytherian Foundation for Culture & Development (KIPA) and the Mediterranean Institute for Nature and Anthropos (MedINA), in collaboration with the Potamos Agricultural Olive Oil Cooperative, the Livadi Agricultural Cooperative, the University of the Aegean, the University of Patras, and with the AK&P consulting team, experts in the promotion of agricultural products.