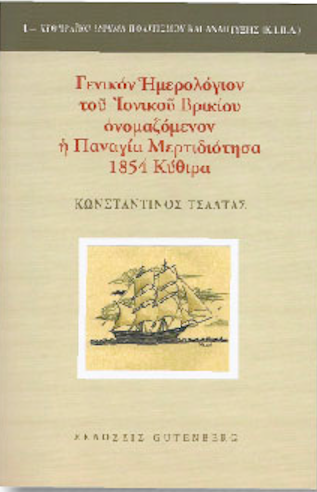 The Kytherian Foundation for Culture and Development (KIPA) launches its publishing activity with a book by Konstantinos Tsaltas 'General Diary of the Ionian Vriki called Panagia Mertidiotissa 1854 Kythera' (Gutenberg Publications 2010-p.170).
The author drew his material from the local archive of Kythera. It is about a calendar that traveled during the period 1853-1855.
The main part of the publication is dedicated to the format and characteristics of the Calendar and further to data related to the ship's voyages, ie its geographical course, the sailor's constant battle with the winds and the sea, the legal status and administrative naval practices in the Ionian region, and finally the administrative bodies with jurisdiction over matters relating to shipping (sanitary, customs, commercial court, etc.).
Information is also given about the cargo of the ship and its sales destinations, the salaries of the crew, its economic activity and the interpersonal relations of the Greek sailors.
The book leads us to get to know an aspect of Kytherian life of the 19th century and make comparisons between past and present.
It's a journey through time. _