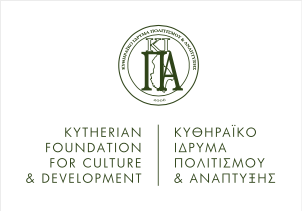 The Board of Directors of the Kytherian Foundation for Culture and Development, after the announcement of the early loss of Eleni Stathi-Kasimati, decided unanimously the following:
1. To express to her husband Manolis Kasimatis and her family the deepest condolences of the President and all its members for the loss of the dear departed Eleni Stathi-Kasimati, a valued compatriot, who contributed with love for our native homeland as a Member of the Board of the Foundation.
2. The Chairman of the Board and the Honorary President of the Foundation should attend her funeral.
3. This Resolution should be published in the print and electronic media that exist for the information of Kythereans, and should be sent to her Family.
Kythira, 31/5/2021
THE PRESIDENT
GEORGE P. KASIMATIS
THE MEMBERS
KOULA KASIMATI, EMM.CHAROS, DIM. KALLIGEROS, GIANNIS PROTOPSALTIS, GIANNIS TRAVASAROS, MARGARITA KONTOLEON, EMM. KALLIGEROS .