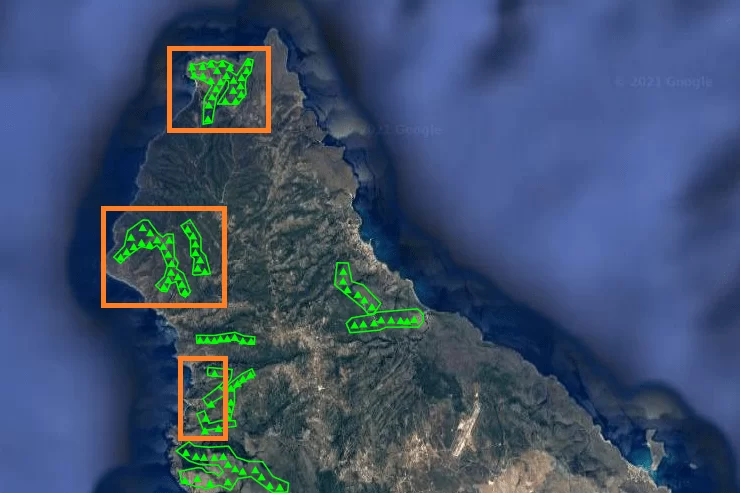 On 18-3-2022, the Regulatory Energy Authority (RAE) announced the rejection of the appeals that were put forward by the Municipality of Kythera, KIPA  (the Kytherian Foundation for Culture and Development) and 200 citizens as well as most associations of the island, regarding the 3 production licenses of TERNA group in the northwestern part of the island.
These three production licenses have been granted for the areas of Kordellides and Xerokambia in the northern part of the island, within the NATOURA 2000 area, as well as in the area of Finikies. In Finikies, this is an additional license at a national record that has now been set, licensing wind turbines with a total height of 250 meters (about the size of the Eiffel Tower)!!
These permits have been issued illegally as they do not take into account basic parameters of the spatial plan for Renewable Energy Sources such as:
Minimum distances from the settlements of Petrouni and Gerakari .

Minimum distances from the main road network of the island.

Sufficient distance from tourist settlements in these areas.

Sufficient distance from individual houses.

Alignment with the integration regulations for wind turbines in the landscape and the impact on the view of the horizon they cause.
These three industrial wind farms are sited within the NATOURA 2000 network, while the work of the Special Environmental Studies for the protection of these areas is still in progress.
These licenses will be additional to the already existing 4 production licenses of the ELLAKTOR and Kopelouzos groups of 150 MW. Thus, the total licensed power of 116 wind turbines is 282 MW, ie 80 times more than the energy needs of the island!!
The rejection of the three appeals will now be followed by applications for annulment of these acts, which will be adjudicated at the Administrative Court of Appeal of Athens. However, as part of the money raised so far will be used, there will be a need for new deposits to make it possible for this long legal battle to continue.
The discussion on RES (Renewable Energy Sources) started years ago on the island and is important. Alternative proposals are also very important.
BUT ABOVE ALL, IT IS MOST IMPORTANT TO KNOW WHAT IS HAPPENING IN REALITY AND TO ENSURE LEGALITY IS RESPECTED.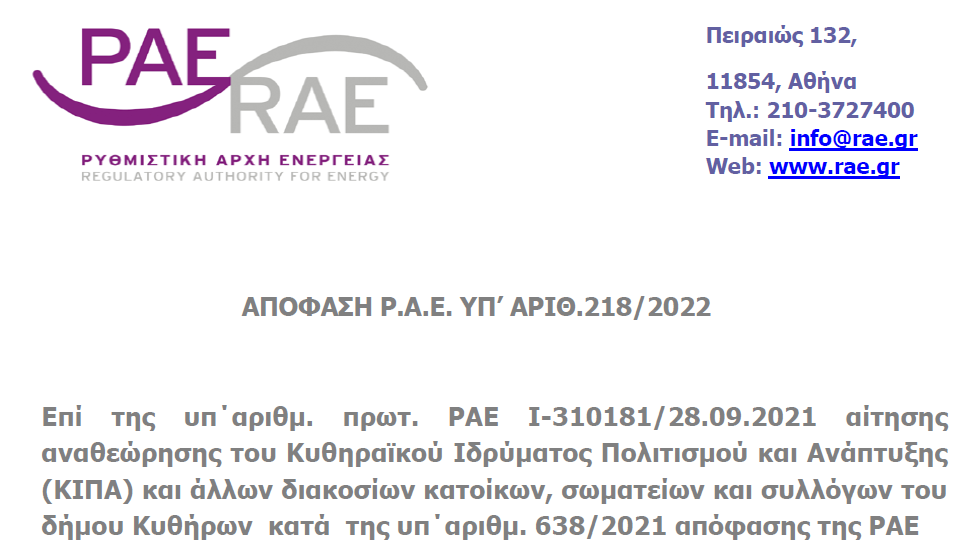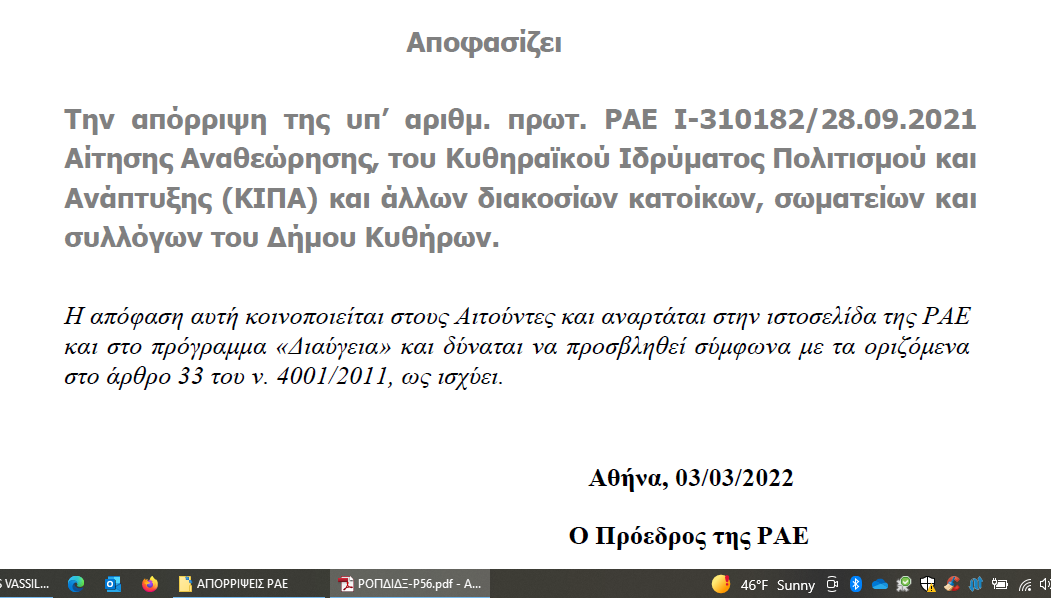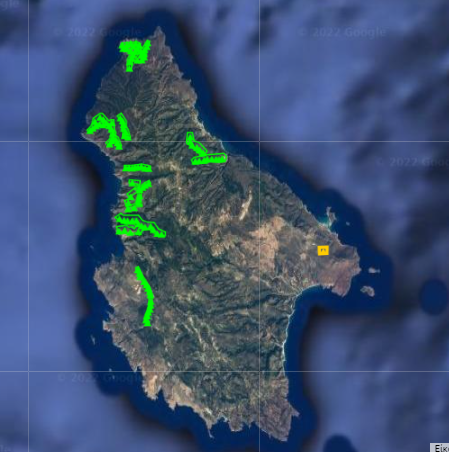 We therefore address all Kytherians and friends of Kythera to chip in and help.
We ask the residents and associations of the island and friends of Kythera to financially contribute, as far as they can, by depositing to the designated KIPA bank account, so they facilitate the long-term judicial battles to rescue the island from imminent industrialisation.
---
For each payment, please contact KIPA by email or telephone, to get a corresponding receipt issued, which will be sent to each named depositor.
National Bank: 380 / 002419-84
IBAN: GR2301103800000038000241984
BIC: ETHNGRAA
Reason for Deposit: Legal expenses for wind farms
or simply follow the KIPA link for donations (become a member), for which you will need to email us to clarify that you "wish your donation of amount x to go towards the legal expenses for wind farms"
https://kipa-foundation.org/en/legal-expenses-for-wind-farms/